Rasterlink Pro Series
RasterLink serie pro asegurar una mayor calidad de impresión
Rasterlink series delivers •••
Gradación suave con procesamiento de 16 bits
Fácil operación incluso para principiantes
Gestión de varias tareas de trabajo para la reducción de desperdicio de material g
Posibilidad de configurar más que una impresora virtual
Disponible la función de reposición de color, muy útil cuando se utiliza un color especial como el "blanco"
Perfil que seleccionará las condiciones ideales dependiendo del material
Características
Características de la Série Rasterlink Pro
Rasterlink Pro 5 SG / IP / TA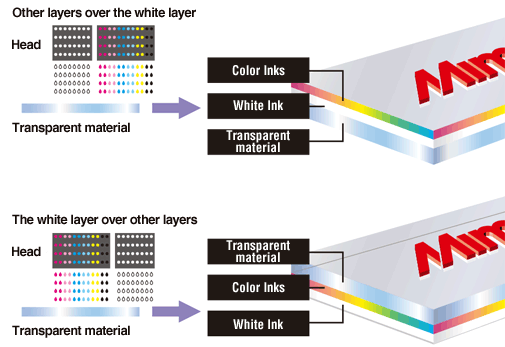 Impresión simple de capa blanca
En el RIP, los datos de blanco son generados automáticamente por de bajo de la imagen y puede hacer una base blanca sin alterar los datos originales. El orden de sobre posición entre el blanco y otros colores puede ser libremente seleccionado. Además los datos del blanco pueden ser seleccionados a partir de cualquier una de las imágenes en el visor (forma rectangular) o en la extensión donde efectivamente los pixeles existen.
---
Funciones de edición versátiles del RasterLink Pro III, especialmente para señalización gráfica y expositores
Cobertura
Revisión de la cabeza y extremidades
La diferencia de color en el momento de impresión entre los extremos derecho y izquierdo, puede ser reducida al mínimo.
Impresión de la línea de corte
Esta es una función convencional para imprimir la línea de corte fuera de la moldura.
Alineamiento opcional de coberturas
Puede ser alineado en el centro del material o en otro espacio cualquiera que pretenda.
Ajuste de color
El ajuste de color de los datos del mapa de bit asignados y de los datos vectoriales puede ser realizado de forma independiente.
Fijación CMYK
En el momento de combinar de colores, los datos CMYK de colores primarios serán impresos sin reflejar el color de correspondencia para evitar el ofuscado del color.
Recorte
Puede imprimir una parte de la imagen. Puede decidir la dimensión del recorte, revolución, espejo, o movimiento, que es conveniente cuando se necesitan de muestras de color.
Copiando y guardando
Esta función permite imprimir la misma imagen, varias veces. Los márgenes y las instrucciones de copia pueden ser definidas.
Revestimiento
La misma imagen es impresa sin espacio. Puede aun mover la imagen para donde lo desee, lo que es indicado para papel de parede, etc.
Estado del proceso
El estado del proceso de RIP, exhibe el tiempo que ha transcurrido y el que falta para concluir las tareas.
Funcionamiento autónomo
Dado que este equipo puede funcionar autónomamente, la configuración inicial, bien como la instalación deberá ser más simple.
---
Rasterlink 6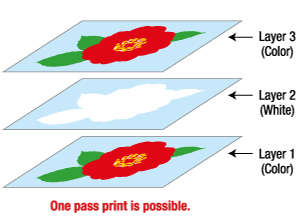 Added Convenient Functions
1. Three ink layers in one pass print function
A three-layer print of colour, white and colour can be performed at one time. The underlay printing of a base layer of white ink in order to reproduce the natural beauty of colours printed on transparent media. Window graphics can be printed with high precision and no multi-pass colour registration shift.
2. Layout function as desired
There is no longer a layout constraint in the size adjustment or a copy function for the imposition of several jobs. Three ink layers or copied images are freely laid out if print conditions are same. This function reduces the media waste by efficient layout.
3. Multi-profile, simultaneous printing function
Several profiles that match conditions can be simultaneously printed. This is effective for test output when the profile for a target image quality or colour requires multiple "profile" test prints. You can select the best profile after actually investigating such an output.
Catálogus
Catálogus de la serie JV400LX
Por favor, descargue el folleto de la Mimaki Rasterlink abajo.

FAQ
Rasterlink 6
Rasterlink 5