Directiva EU REACH y Fichas de Datos de Seguridad de Materiales (MSDS)
REACH es un Reglamento de la UE sobre productos químicos y su uso seguro (EC 1907/2006). Tiene que ver con el Registro, Evaluación, Autorización y Restricción de Sustancias Químicas. El Reglamento entró en vigor el 01 de junio 2007. El objetivo de REACH es garantizar que los productos químicos, durante su ciclo de vida completo, se gestionan de una manera que no existen riesgos significativos para el hombre y el medio ambiente. REACH ha sido diseñado para gestionar y controlar los peligros y los riesgos potenciales para el hombre y el medio ambiente de la fabricación, importación y uso de productos químicos.
Mimaki es consciente de la responsabilidad de cumplir con el reglamento REACH.
Como parte de esta directiva Mimaki Europe proporciona Hojas de Datos de Seguridad (MSDS) para sus productos que contienen componentes químicos. Las hojas MSDS contienen información sobre una manipulación segura, transporte, almacenamiento y primeros auxilios. Estas MSDS se actualizan de forma regular:
Para los usuarios finales
Por favor, entrar en contacto con su distribuidor local autorizado Mimaki, que le proporcionará la necesaria MSDS en su idioma local.
For dealers & distributors
To access our MSDS sheets, you will now be required to download an FTP client application such as FileZilla Client.
Host: ftp.mimakieurope.com [188.200.160.30]
Port: TCP/21, TCP/25000-29999 (range)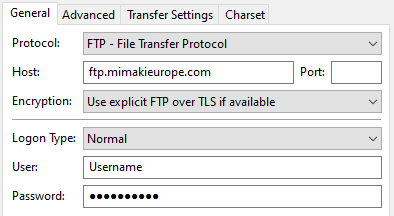 If you don't have a login yet, please send an e-mail to info@mimakieurope.com or contact your sales representative.