Note: This product has been discontinued. To view the latest available product in this series, please click here.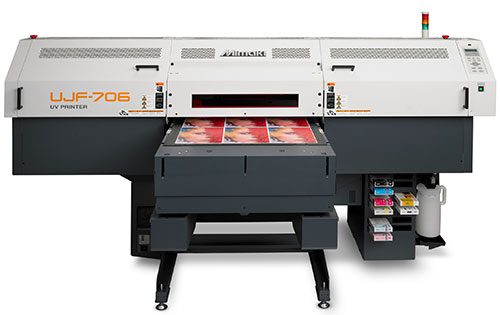 UJF-706
Alta Calidad de Impresión Industrial en UV
La UJF-706 es una solución innovadora para las empresasque exijan una rápida respuesta de impresión y producción en un corto plazo, y impresión de datos variables. La UJF-706 imprime en una amplia gama de objetos y materiales hasta 15 cm de grosor. Con la unidad en rollo, opcional, puede aun imprimir material en rollo, sustratos finos y películas para embalajes flexibles.
| | |
| --- | --- |
| Impresión directa en materiales hasta 15 cm de grosor | Excelente calidade de impresión y fiabilidad |
| Capacidad de impresión de datos variables | Impresión simultanea de color y blanco |
| Tinta blanca y barniz transparente | Unidad para rollos, opcional, para impresión de material en rollo |
Create…
Equipamientos industriales, como paneles de control, Aparatos electrónicos como móviles, portátiles y altavoces, Novedades & Regalos, Premios con grafismo, Señalización interior, Cartones, Porta tarjetas, Botellas de vidrio, Cajas de vino, Cajas para regalos, Cajas de metal, Prototipos de embalajes y mucho más!