UJF-3042
UJF-3042 Series Impresora plana UV LED de sobremesa
Al proporcionar una solución única para tiradas cortas e impresión bajo demanda la serie UJF-3042 ofrece una versatilidad sin precedentes y reproducción de alta calidad de impresión en una gama increíble de materiales, productos y sustratos.
La serie UJF-3042 ofrece •••
Excelente calidad de impresión y fiabilidad
Diseño compacto que ahorra espacio
Impresión directa sobre materiales de hasta 5 cm (FX) y 15 cm (HG) de espesor
Impresión simultánea de color y blanco
Tinta blanca y barniz transparente
Función de aplicación automática de primario
Modelo HG cuenta con dos canales adicionales de impresión para la impresión de 6 colores, más las tintas blanca y transparente






Aplicaciones
Aplicaciones de la serie UJF-3042
Sustratos y aplicaciones
Regalos y novedades
Electrónica, tales como teléfonos móviles y ordenadores portátiles
Papelería
Paneles de control
Pantallas de interior
Tarjetas
Soportes de tarjetas
Botellas de vidrio
Memorias USB
Cajas de regalo
Cajas de lata
Imanes (PVC)
Mechero (latón), y más!
Especificaciones
Especificaciones de UJF-3042
Print head
On-demand Piezo head
Maximum print area
300 x 420 mm
Printing resolutions
720 x 600 dpi, 1440 x 1200 dpi
Ink type
LH-100 (C/M/Y/K/W/Cl)
LF-200 (C/M/Y/K/W)
LF-140 (C/M/Y/K/Lc/Lm/W)
Ink capacity
220 ml cartridge / 600 ml ink pack
Media size
Width: up to 364 mm / Length: up to 463 mm
Media thickness
UJF-3042 FX: Up to 50 mm
UJF-3042 HG: 150 mm
Media weight
Up to 5 kg
UV device
UV LED
Interface
USB 2.0
Power consumption
Less than 0.5 kVA
Dimensions (w x d x h)
(FX model) 1200 mm x 1090 mm x 770 mm
(HG model) 1200 mm x 966 mm x 920 mm
Weight
(FX model) 113 kg
(HG model) 130 kg
Características
Características de la serie UJF-3042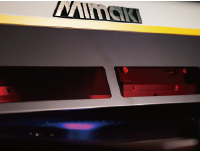 Dos modelos disponibles
TLa serie consta de la UJF-3042FX, que puede imprimir hasta 5 cm de espesor, y la UJF-3042HG, que imprime hasta 15 cm. El modelo HG cuenta con dos canales de impresión adicionales, que permite imprimir en el modo de 6 colores más dos tintas especiales (blanco, transparente o primario).
La serie UJF-3042 asegura que usted responde a los requisitos de sus clientes para impresión digital individual o de pequeñas cantidades aumentando una multitud de productos (incluidos los artículos moldeados), sustratos y materiales con mensajes personalizados.
---
Tres tipos de tinta disponible
Los usuarios pueden elegir entre tres tintas UV la que mejor se adapte a su aplicación. LH-100 tinta UV dura es excelente en arañazos y resistencia química, así como en reproducción de color. LF-200 tinta UV flexible permite el estiramiento de la tinta hasta un 200%. LF-140 ofrece una gradación fuerte en la impresión de seis colores (CMYK + LcLm) y es más flexible que la LH-100.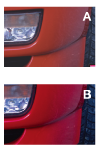 Tinta blanca simultánea por debajo y por sobreimpresión
Imprima imágenes brillantes de colores sobresalientes, en sustratos transparentes y de color con tinta blanca por debajo o por sobreimpresión que no retrasa la velocidad de impresión.
A. 4/6 colours sólo
Without white ink as a basis for overprinting, the colours are not as vivid as they should be.
B.4/6 colores + blanco
Agregue valor a sus impresiones con tinta transparente para realizar acabados brillantes y para proteger aún más su imagen.

Stunning effects with clear ink
Add value to your prints by using clear ink to create beautiful glossy, matte, or embossed finish–as well as to further protect your image.
---
Funcionalidad de aplicación automática de Primario
Ambos modelos incorporan una funcion automática de primario. Los nuevos cartuchos de primario inkjet son simplemente introducidos en la ranura correspondiente de tinta de la UJF-3042, que permite al primario apuntar específicamente sólo a la zona de impresión de la imagen. Esto simplifica el proceso de pre-cebado que normalmente se aplica manualmente.

*Always test your intended materials before using primer. When printing with primer and white / clear ink, production speed is reduced to some extent.
---
Otras funciones útiles para garantizar la calidad de impresión
Sistema supresor de spray Mimakipreviene gotas de tinta por satélite.
Función de recuperación de la boquillareduce el potencial tiempo de inactividad si problemas de mantenimiento surgieran.
Tecnología de Circulación Mimaki (MCT) evita la sedimentación del pigmento y reduce el desperdicio de tinta.
---
Environmentally-friendly Technology
UV LEDs have longer life and consume less energy than conventional UV lamps
Less transfer waste and no wasted inventory by printing on-demand, direct-to-substrate
No noticeable odour and no excessive noise
Descargas
Descargas de UJF-3042
Por favor, descargue el folleto de la Mimaki JV5-320DS Serie abajo.

---


Medios
FAQ
Preguntas más frecuentes de la UJF-3042
Preguntas más frecuentes de la UJF-3042FX
Preguntas más frecuentes de la UJF-3042HG